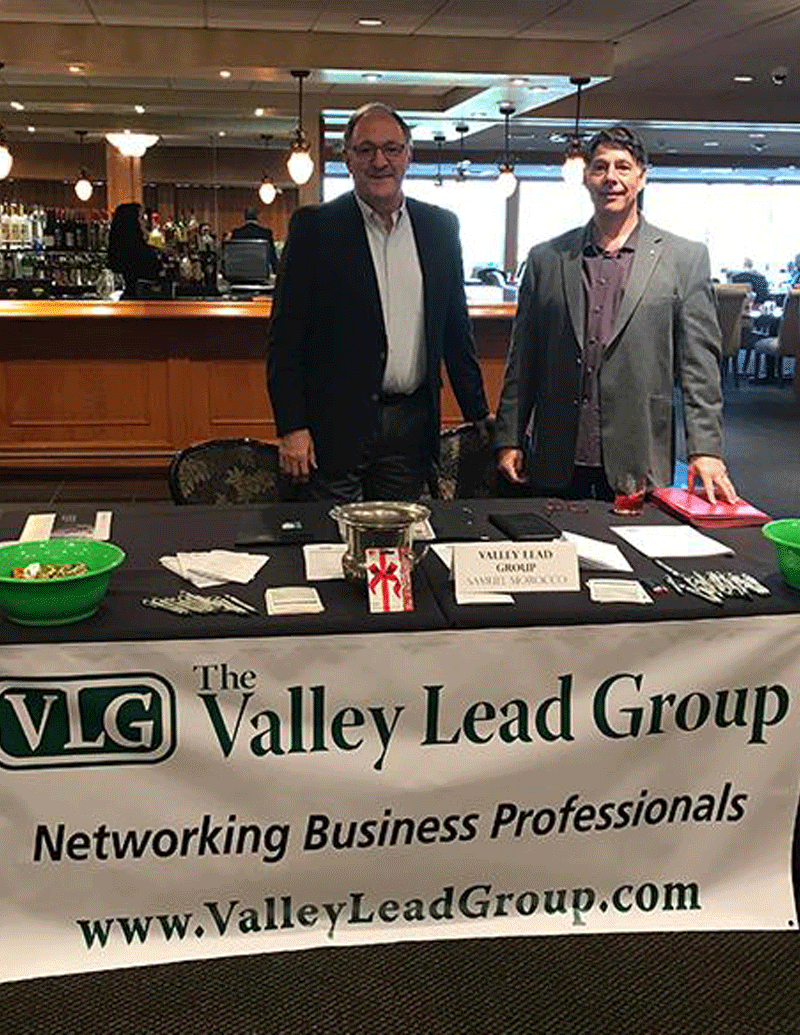 The Valley Lead Group is a professional networking association of men and women dedicated to the highest level of competence and service. Our primary mission is to give and receive qualified business leads. Members will, at all times, maintain the highest degree of honesty and professional integrity. Each business category is represented by one member or company and conflicts of business interest are not allowed. 
I have been involved with the Valley Lead Group for almost three years now and have made valuable contacts and connections with and through other members. I consider VLG to be an invaluable part of marketing myself to the community and other business leaders and the long-term benefits are priceless.
– Denny White
Gem-Young Insurance
I joined Valley Lead Group to meet fellow business owners and decision makers in Mahoning Valley & surrounding areas. It has been great to connect with these local professionals, share information about all of our businesses, and refer potential clients to one another. One of the best decisions I've made as a business owner!
– Vonda Schaal
Travel Help Agency
I have gotten a lot of referrals not only from the members, but also from their network of professionals using my business for all of their vehicle detailing and care.
– Mike Sodomora
Mike's Prestige Detailing
I've been a part of VLG for three years. It is a comfort to be able to go get quality work done from members within the group. No worries about who is coming to your home or business. I have complete confidence in all of them and have recommended my colleagues to friends and family. Couldn't be happier being involved with VLG!
– Dr. Rudy Braydich
Braydich Dental
I've been involved with the core group of business people for over 18 years. With that type of rapport and relationship building, it has been great for my business building. Not only for the business leads, but the connections made, have proven to be an invaluable asset to both my family and me.
– Sam Morocco
Gem-Young Insurance
For the past 13 years I've built strong relationships that have lead to immediate business. Being in the IT field, it is all about trust and credibility.
– Mike Gallagher
ECMSI, Inc.
Being a member of VLG for the past 10 years has allowed me to develop relationships with other business owners and decision makers. Developing relationships with these individuals assures us both that when potential business arises, we have the opportunity to help each other out.
– Michael Humphries
Colella & Humphries CPA's, LLC.
I've been involved with the network group since shortly after starting my business in 1999. It has helped me get immediate connections with fellow business professionals and owners of other businesses alike. Even after such a long time, I still have dedicated clients that I service and I am proud to call a client. They were solely derived from the individuals in this group internally and externally equally. If you own a business or are a decision maker, you need to join this group!
– Rob Palowitz
PALO Creative
Since joining the Valley Lead Group 4 years ago, I have received many referrals and built many relationships with my fellow members. I know at any time if I need help in a certain field of business, I can reach out to my fellow members and feel confident that they'll take care of me.
– Lisa Vallas
Chemical Bank
When it comes sales, I've have been with Vector Security for over 37 years. Close to half of my career has been spent networking with people to build my business. This group has been important to my business, being just about all of them are clients. I'm proud to being a core-founding member of this group and it will always be an integral part of my networking.
– Tod Crowe
Vector Security
The purpose of VLG is networking is straight forward: We want to extend our sales force by "training" our fellow members to be our outside sales force showcasing what a "GOOD LEAD" can be for your business.
Every member has 2 opportunities to highlight their business to the membership: Speaking and your 30-second commercial. One member does each of these at each meeting.
Speaking
A 10-minute time period for more depth and detail about some aspect of your business. Remember—what is old hat to you may be very new to other members of VLG. The only way that your "sales force" can work for you is to be knowledgeable about your business. If you are going to accept questions, you need to do this at the 7-8 minute mark so that you will have time to answer.
The 30 Second Commercial
At the conclusion of each Valley Lead Group meeting, all members are given the opportunity to speak. This is the time to discuss the type of customer/client who would be right for you. Briefly mention a new product or service. Remember that repetition does work. Just because you said something before doesn't mean everyone remembers it.
Meetings are the 1st and 3rd wednesday of every month
7:30 – 8:30 am
davidsons restaurant
3636 Canfield Rd.
Canfield, OH 44406